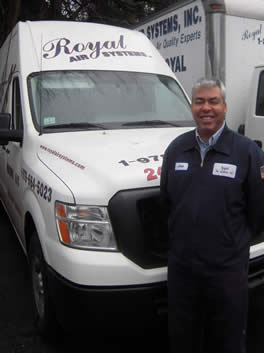 At Royal Air Systems, Inc. we pride ourselves on our relationship with our customers. We offer 24-hour service, available 7 days a week. Our technicians are licensed, trained, and kept current on all service procedures. Our staff has been trained to respect the privacy and property of our customers. Our longstanding commitment to customer satisfaction has earned our excellent reputation as a premier Residential Retro-Fit Contractor.

Our service department brings new meaning to the word reliable. At Royal Air Systems, Inc., our Service Personnel go the extra mile to ensure customer satisfaction. We believe in the personal touch, from answering all your calls, 24 hours a day, to dispatching our technicians anytime, in any weather. The needs of our customers always come first. Royal Air Systems, Inc. performs a comprehensive background check on all field employees. From the moment they enter your home, wearing protective booties, to when they finish cleaning your air cleaner, on the drop cloth we provide, you can rest assure that our Service Team Members will do all they can to show you the "Royal Difference".
A written agreement between Royal Air Systems, Inc. and you, a Maintenance Agreement provides not only for maintenance of your heating and cooling equipment, but also for your peace of mind, knowing that we are here whenever you need us, 24 hours a day, 365 days a year.
---
Standard Service Agreement
This standard service agreement covers parts as outlined on the agreement and parts or repairs are given a 15% discount for covered equipment. This agreement is suitable for the customer who wants to pay once and have the peace of mind that they are covered for most problems 24 hours a day, seven days a week.
The Benefits of a Standard Service Agreement Include:
Annual Preventive Maintenance
Waived after hours fee
Parts or repairs are given a 15% discount for covered equipment
Priority Service
Request A Service Agreement
If you would like to request a Standard Service Agreement please use our online request form and we will contact you as soon as possible.