The Town of Mill, Hill, and Till
Originally a Native American settlement by the name of Cochichawicke, Andover was incorporated in 1646. The area's new name was after the area many of its inhabitants originated from in Europe. From its earliest days, manufacturing played a key role in the city's growth and industry. From powder to paper and then wooden mills, the foundation of Andover shifted. But its real claim to fame is Philips Academy, its renowned private school. This New England town now boasts a population of 36,500 residents.
Today, no matter what part of the town you call home, you can't get by without a go-to HVAC contractor. Like most of New England, the town is characterized by bitter cold and sweltering summers. Andover's average monthly temperature ranges from a low of 20 degrees to a high of 83 degrees. Fortunately—whether it's January or June—the HVAC experts at Royal Air are here to give your comfort equipment the royal treatment.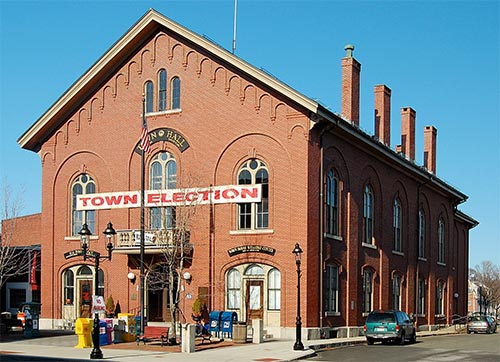 We Make Winters in Andover Easier to Bear
As fall leaves wither away, winter in Andover rears its head. Though it might look like a Hallmark movie, the bitter cold isn't a fairy tale. In fact, when your furnace or boiler breaks, it can be a downright nightmare. Fortunately, our residential HVAC experts serve and are familiar with the Andover area. Services we provide include:
Furnace Repair: Your furnace can be taken out from everything from a bad circuit to a heat exchanger. Unfortunately, it can be hard for homeowners to pinpoint the cause of a furnace breakdown. That's where our Andover HVAC experts come in. Upon arrival, our technicians will introduce themselves and discuss the symptoms of your furnace issue. They will then investigate the unit and present you with your options for repair.
Furnace Replacement: In our 43 years servicing Andover, we've installed a lot of furnaces. We've also seen firsthand what results from a subpar furnace replacement or installation. It leads to higher energy bills and long-term comfort issues. That's why it's best to leave your heating installation in Andover to a professional HVAC contractor, one who can give you the royal treatment. If you go for energy efficiency, we'll also tackle that annoying paperwork for you.
Boiler Service: For those in Andover who rely on a boiler to heat your home, we're here for you. Our HVAC experts understand how they work and can quickly uncover the source of your heating problems. In addition to boiler repair, we also provide boiler maintenance and installation. To schedule boiler service in Andover, reach out to us by phone or email.
Heating Maintenance: A new boiler or furnace can easily cost over $10,000. Don't you want to protect that investment? If so, you should consider signing up for our Royal Maintenance Club. Through this club, you get access to our heating maintenance services. This small yearly investment not only ensures a longer equipment life but also increases system efficiency and eases warranty compliance.
Our Summer Services Keep the Sweat at Bay
Whether you're touring the Stevens-Coolidge Gardens or hiking through Harold Parker State Forest, it's hard not to enjoy summer in Andover. But that enjoyment can quickly sour when that heat follows you indoors. But our variety of cooling services are here to prevent the swelter of summer from following you indoors. To schedule AC service in Andover, give us a call. For more information on what we do, check out our list of offerings below:
AC Repair: You wake up and your thermostat is five degrees above where it should be. Your brow erupts in sweat, and not all of it is from the heat. What will this cost you? Can your air conditioner be repaired? The only way to know what's wrong is to reach out to Andover's HVAC repair professionals at Royal Air Systems, Inc.. Rest assured, whether the issue is a broken circuit or a busted compressor, we have the expertise to fix it.
AC Replacement: Like most things, AC units in Andover don't last forever. As they edge past their tenth year of operation, components can begin to fail. There are times when AC repair is the best option. But, in some circumstances, replacing the unit is the more economical choice. Whichever we advise, know that Royal Air's comfort knights have your best interests at heart. To make the AC installation process easiest for you, we'll handle the permitting procedure and any rebates for which you may qualify.
AC Maintenance: Like your car, your air conditioner works its best when it receives regular visits from a professional. During your annual AC tune-up, our technician will clean the unit and inspect it for indications of failure or breakage. When complete, it will operate more efficiently and you'll enjoy peace of mind. To take all the worry out of HVAC maintenance, consider joining Royal Air Systems, Inc.'s maintenance program.
Cleaner Air is Just Part of What We Do in Andover
We all know how important water quality is to modern living. That's why we read water quality reports and react to signs of lead or other contaminants. But we tend not to pay much attention to the air we breathe. This is unfortunate as indoor air pollution is one of the world's top public health concerns. From removing dust and dander to stopping viruses in their tracks, our air quality services go a long way to keep Andover breathing easy.
Air Quality Testing: Getting a true understanding of what is in your air requires professional air testing. To set a baseline, our technician will take samples of the air throughout your home. After compiling the results, they will present you with options available to fit your wants and budget.
Humidifier Service: Are you tired of static shocks? Is the air you breathe dry and irritating? Then, you may want to consider having Royal's comfort knights install a whole-house humidifier in your home. Rest assured, we'll treat this job with the same deference as our furnace and AC replacement work. To get started, give us a call at (978) 664-5023 to schedule humidifier repair or installation.
Air Cleaner Installation: Germs and viruses can be distributed through your home's HVAC systems. Through this, sickness can become a cyclical thing. But UV duct cleaners can keep these and other biological contaminants at bay. For a free quote on an air cleaning device, contact Royal Air Systems, Inc. by form or phone.
Why People in Andover Opt for the Royal Treatment
Your Comfort Stewards For 43 years, we've been keeping Andover comfortable. Our full suite of HVAC services ensures you no time of year has to be dreaded. Big or small, you can trust our family-owned company to get the job done.
Worry-Free HVAC Solutions A lot of HVAC experts in Andover finish the job and vanish from your life. We don't. From pulling permits to helping with rebate submission, we do everything we can to take the hassle out of HVAC repair and replacement.
Knighted and Applauded Our customers return to us year after year because of our commitment to getting things right. This can be seen in our reviews on both Google and the BBB. We are also the recipient of designations from major brands like Trane, Bosch, and Mitsubishi.
Scholars of > We want you to receive cutting-edge advice. That's why we only hire true HVAC experts and provide ample ongoing training for them throughout the year. They are also thoroughly trained in retrofitting services.
Respectful of Your Castle Your home deserves the same respect as Buckingham Palace. And, at Royal Air, we provide it. Our technicians wear foot covers and clean up after themselves.
We've Been Keeping the People of Andover Comfy in Their Castles for Over 43 Years
Our HVAC company is here to defend and protect your comfort in Lexington. This also means providing for your peace of mind. That's why we handle all of the paperwork—from pulling permits to filing for tax rebates. By doing so, our comfort knights help ensure a hassle-free and convenient HVAC repair and replacement process.
When you use Royal Air, you also benefit from amazing customer service and total dedication to your satisfaction. This is something you'll see reflected in our reviews. So, whether you need to fix your boiler or install a new furnace, you can count on us.
Call (978) 664-5023 today and experience the Royal Air treatment.