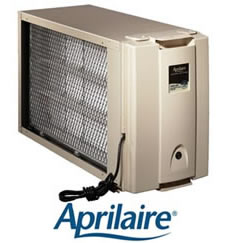 Cleaneffects® by Trane
99.98% effective on removing air borne allergens from your home, the Trane Cleaneffects uses pre filters, and electronically charged ionizing media, to remove 99.98% of dust and allergens. This system has the largest delivery rate for a Residential product.
Aprilaire Model 5000
Installed as part of your home comfort system, the Model 5000 traps airborne particles by passing them through an electrode control and then depositing them on grounded micro-fiber media. This Electronic Air Cleaner is 80% effective on air-borne virus sized particles and 98% effective on bacteria sized particles.
Ultra Violet Lights
There are several UV light systems used for germicidal control in duct systems. The number of UV light tubes needed is determined by the size of your home. The true purpose of any Ultra Violet light system is to kill any bacteria that may be lingering in the ductwork.
To determine which type of air cleaner best suits your needs, please contact our Home Comfort Consultants. They will work with you to determine the Air Quality needs you require.