IAQ or Indoor Air Quality is a growing concern for families. You want your family to be safe from the air pollution problems found in the outside environment, yet you may be unaware that indoor air pollution can have a major effect on your family's health, comfort, and safety as well.
Products are available to solve most IAQ concerns, but how do you know what solution you need?
We can help!
Our IAQ Solutions:
Humidifiers
If you find your home to be too dry in the winter, and your carpets to be too shocking, we offer a variety of whole-house humidifiers to handle any size home.
Learn More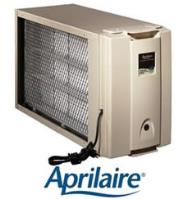 UV Lights
Residential ultraviolet units have been independently tested and proved to be effective in the constantly moving air environments of heating and cooling systems, killing allergens and bacteria quickly and effectively.
Learn More
In-home Air Cleaners eliminate most common pollutants throughout your home
If you have someone that suffers with asthma and allergies, then you already know the problems associated with poor Indoor Air Quality. No matter how often you clean your home, you can't rid your home of all the particles that can aggravate allergies and asthma. Installing a whole-home air cleaner can help you control the quality of the air you breathe. Unlike portable air cleaners, whole-home options require less maintenance, eliminate more contaminants and effectively removed particulates from the whole home, not just one room.
We offer the following air treatment solutions for:
Allergies
Bacteria
Chemicals
Dust
Germs
Indoor air pollution
Dust mites
Odors
Pet dander
Pollen
Smoke
Viruses